Two of my best clients are a result of LinkedIn, and not by me asking them for business…
I own a branding and marketing agency. I have "optimized" my profile to include terms that potential clients would use to find my services. Optimizing includes making sure title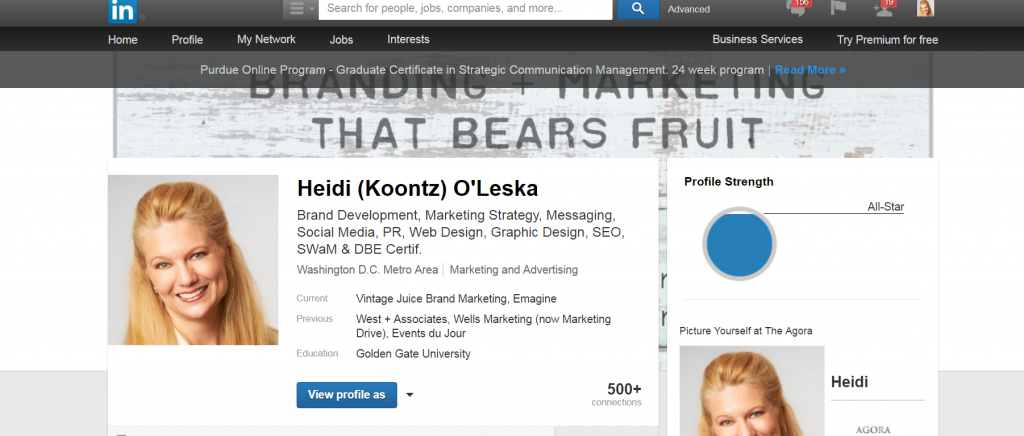 s are  NOT "President" or "Owner", instead "Marketing Strategist" and "Branding Strategist". Who searches for "owner"? It includes optimizing all titles for past jobs, as well as filling out each job description paying careful attention to using marketing, brand development, B2B, B2C, etc.
Connect, connect, connect. But NEVER the generic invite provided by LinkedIn. Take the time to discover the connections you have in common and most importantly, determine what would be of value to the person you want to connect with. Is there an event you can invite the person to that would benefit that person/business? Is there an article that would be of interest to the individual? Is there a person you can introduce to help them grow their business? Connecting in this way, makes you memorable. Ask one of the people you have in common if you can use them as a reference.
Stay in touch, again, value add. Updates at least 3 times a week, with the 80/20 rule. 80% value add, only 20% or even less, promotional. I offer articles on marketing and branding, business tips to help grow your business. On occasion, I post the launch of a new client's website – as promotional as I get. If your updates are of great value, tips they can use in their business, your updates will get red, liked, commented on, and more eyes will be on them.
Write recommendations whenever possible. It not only helps your colleagues/connections, it is a great way to stay in front of them, more often than not, if they've worked with you, they will recommend you as well. Next time someone asks them for a great "xyz", if you've just given them a glowing recommendation, most likely, you will be top of mind for the referral. The more recommendations you have, especially ones that use the terms/services prospective customers are searching for, the higher you will be in the search.
Join a group that is mostly your target audience (as opposed to colleagues). Be active, start conversations, ask questions and make sure they are educational/informational/help grow their business. Position yourself as the authority on what you do, and give, give, give. Don't join groups that are full of posts with no discussions, be diligent, check out how engaged the group is, are they serious about business? You only have so much time to spend on LinkedIn each week, make it worth your while.
One of my best clients (web design firm in Boston) found me on LinkedIn searching for a marketing strategist in the DC area. My profile was well optimized for the term, and I came up at the top. Another client is a good friend from church, that moved to North Carolina. I never talk about work at church. After a year of getting my updates, when he started an IT consulting company, I was top of mind to call to brand his new firm.
I feel LinkedIn is all about relationships and helping your colleagues. Not a big fan of advertising services to prospects that you have not earned their trust. Advertising for employees is beneficial of course!